Simple Sensory Play Ideas For Babies (1-2 year olds)
Inaaya , my daughter, is a year old now. We brought in her birthday surrounded by family singing an uncoordinated and enthusiastic 'happy birthday',  an awesome Sunday buffet of Indian kissed Chinese food  and  a troop of animated  'toddler' cousins (all aged between 1 and 5 years) bouncing around like stray electrons! The cake, which on Ruhaan's (my son) behest flaunted a Barbie (an expression of 'barbies are for girls') had Inaaya intrigued on account of more merits than one:  barbie bling, the awesomeness of chocolate and the wonder of squishiness! Propped in the eating chair, Inaaya basked in the stickiness of the noodles, the gooeyness of the cake and the warmth of family. She had had her moment of play.
At this point I must confess. I am guilty of neglect. In the past, my heart has tugged at me more than once. Inaaya has been left out from many play sessions or ushered into the other room because Ruhaan owns a mammoth pile of 5 year old toys. This poses a hazard since Inaaya is like a chomping truck that devours anything in its path. This has made me very wary of the type of play I expose her to. To get around this, I have come up with a list of inexpensive and rather simple sensory play ideas which do not pose a choking threat to my 1 year old.  The up side: these are cheap and simple sensory play ideas and can be made easily from things at home.
Mother-O-Pedia's two cents: If your baby is just only being exposed to sensory material, go from the dry to the wet media, from non-messy to messy and so on and so forth.
1. Textures
It is a good idea to expose kids to tactile benefits of walking bare feet. The foot is usually ignored as a medium of touch. Through the process of walking bare footed, babies are able to process the difference between types of textures, temperature, dry or wet and make mental associations. This involves zero cost investment!  My little one is still learning to stand on her two feet!
2. Water Balloons
This is a wonderful sensory play experience. These are squishy. They are colourful. They ensure laugh and giggle. My daughter loves to play with them in her bath tub! And my son loves to help me fill them and watch them bloat and bloat! For this fun filled  sensory play activity all you need is a few balloons.
3. Sensory Bin
A combination of several forms, shapes and textures, the sensory bin is a comprehensive tool of giving the baby various forms of stimuli. I added to mine whatever odd things I found from around the house; particularly from my son's craft box. To mention a few there were colourful pom poms, ice-cream sticks, pipe cleaners.  For this one, I supervise my 1 year old very closely. Like I said, she's gotten a fancy for exploring things with her mouth.
4. Rolling Dough
A tad bit messy (but nothing that cannot be cleaned later), this is an activity that works very well to strengthen fine motor skills, fingers and wrists. Children have full control over this type of play. As soon as I handed a ball of clay to Inaaya, she instinctively picked it, squeezed it and poked it.  I used a  simple dough made out of all purpose flour, water and cooking oil. These ingredients are usually in the kitchen and make for simple sensory play. Adding edible colour works well too.
5. Textured Dry Massage
I did this one extensively with my son. On days when he could not contain his motor energy,  I used this to calm him down. Not only did it have  a sedating effect, it awoke his body to the feel of different textures. Simple things like cotton balls, loofahs, dish washing sponge, a soft hair brush may be used to massage the child from top to bottom in gentle movements.
My daughter likes it on her hand. She has now started expressing her preference for textures. From the array of sponges, the hands me the one she wants me to massage her with. . Cute isn't it?!
6.Foot Painting
Dip and stamp! That's the way to walk this ramp!!Use of a myriad of colours stir up colour sensitivity. The rubbing, scrubbing and washing of feet post this activity carries the learning further.  What one needs is acrylic colour and a sheet of chart paper. It would be a good idea to  take this activity outdoors. I am not one for cleaning mess and this one can get there.
7. Wiggly Wobbly Jello
Wibble wobble jelly is one of Ruhaan's favorite plays! For my younger baby, this turned out quite as I had expected. Mashing, fishing, scooping, spilling!! Boisterous squeals. Loads of fun and loads in the mouth! And a lovely strawberry fragrance too!  I am pretty sure she observed how the jello turned from jiggly to slushy to  a coloured liquid. For mommies who don't like sticky fun, you could use plain gelatin. Once again, a very very simple sensory play idea!
8.Ice Cubes
It's sweltering and the sun is merciless. This one was inspired by the heat and my daughter's love for water. Since this was the first time I was giving her ice to play, I decided to use the ocean theme moulds that I had lying around. I added a couple of drops of acrylic water colour. What I got was a fancy colorful ocean themed ice tub. I threw in a couple of Ruhaan's plastic animals and we were good to go! Big bro joined in the play and we had a good few moments of exploring.  Ahh…cool happy moments of respite!
13. Bubbles

Once the ice melted the baby looked somewhat miserable. I didn't want to end her fun just yet. I  picked up a bottle of dish washing soap and added just a few drops. Voila! I had another beautiful activity to stimulate tactile sense. I added a rattler, a little bucket and hoops to the bubbles. With Ruhaan joining in, it amped the level of fun! I have read that adding a  few drops of food colour give the bubbles the most spectacular hues. I haven't tried it myself, but sounds like a good idea.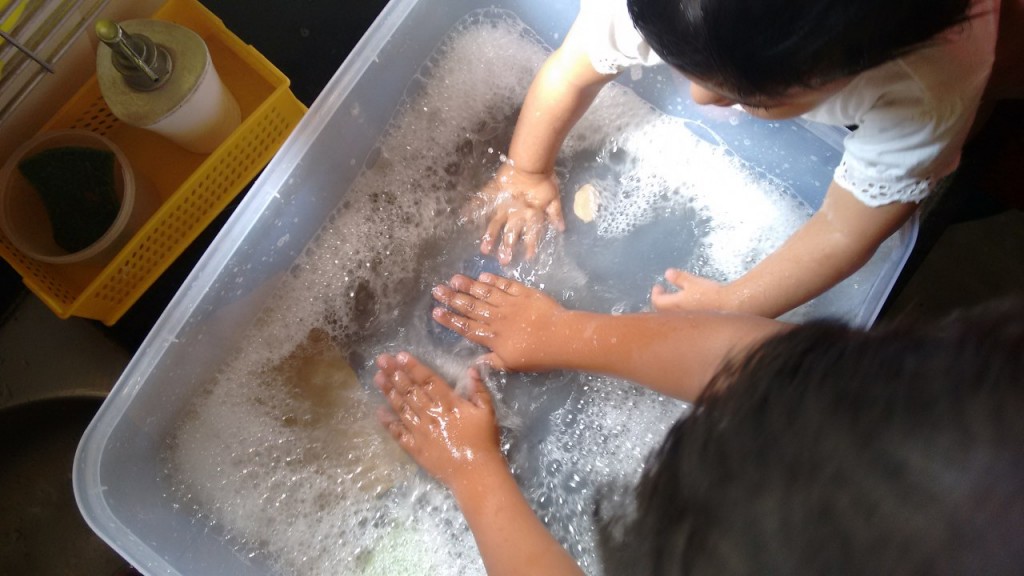 9.Sound bottles
This idea was generated from my son's school curriculum.  There they used a variety of sound instruments to develop keener perception of sound. I came up with my own sound bottles. All I needed was a couple of similar looking bottles and different lentils from the pantry to fill them up. You can be as creative as you want! Beads, buttons, shells, anything could work.
10. Pool splash
I just cannot stop cribbing about the heat! And the children are melting too. There is no better way to sooth on hot summer days than soaking in the pool. Water, as you all know, is a great medium for sensory play. I tossed in some toys and the kids were busy for a long, long time.
11. Taste eat
Baby Ruhaan and a slurpy mango mess to keep him company!
As I mentioned earlier, Inaaya explores everything with her mouth. Kids her age do a lot of learning through taste. Inaaya always sits with the family for dinner. With loud screams and a frenzied shaking of head and arms, she conveys to us what she wants to sample from our plate.  Allowing her a little taste of what we eat quenches her curiosity and stirs up her palette towards newer flavours.
12. Simply touch
This could be just about anything. Touching a leaf or a flower while you take the baby out for a stroll, the many vegetables on your kitchen top, cartons and packaging, the possibilities are endless. Inaaya is an explorer. Since she's just graduating to a walk from a crawl, she loves walking bare feet and feeling mats, carpets, blankets, floors and grass beneath her feet.
 14. Puffed Rice Sensory Bin
Puffed rice is an  absolutely safe medium to fill in a sensory bin. I am dying to try this one out. I haven't had the opportunity to colour the puffed rice. Once I get down to doing it I am hoping to add some accessories and toys lying around to the bin.  Hopefully, this simple sensory play bin  make a busy, busy, baby.
15. Nature Walk
This is the easiest and the most convenient form of sensory education for kids. Toys or not, this one is a sure winner. This is daddy dearest's favourite activity with the kids. It was, and continues to be a Sunday morning ritual with Ruhaan. Inaaya now joins in. Both the kids wake up with the rooster making it easy to catch the brilliant morning sun in the park. Rough bark, soft grass, squishy mud, coarse dirt, and cool water,  creepy crawlies, beautiful butterflies, swings, slides, the list just goes on. To slow down Ruhaan's pace, we have made him in-charge of showing his little sister the wonders of the world around.